Meat
This is the page description.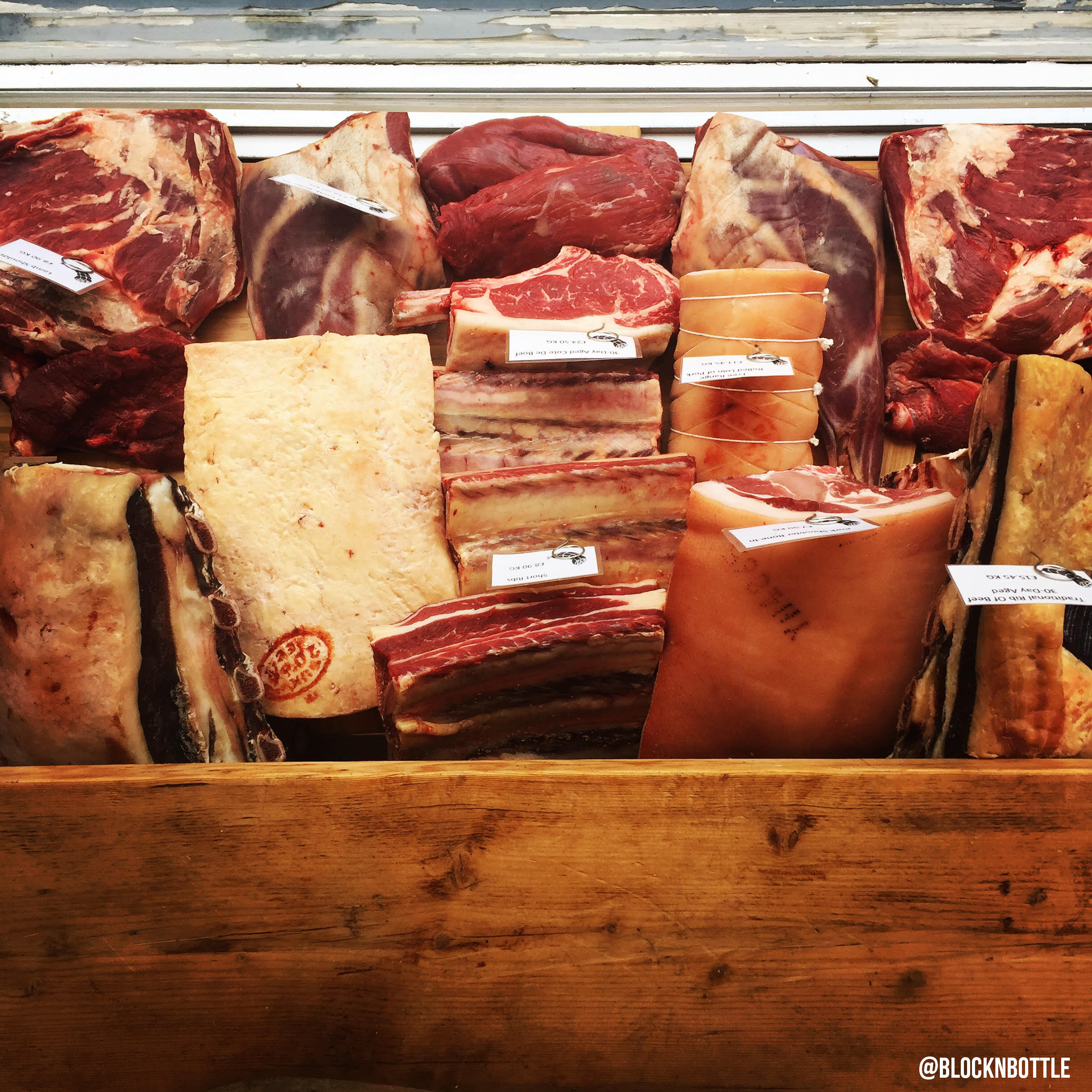 We take great care in sourcing our meat and only use our approved free-range farms that are as local as possible, with the majority from North East and Yorkshire.
BEEF
The majority of our beef is rare breeds, including Longhorn, Shorthorn, Hereford and Dexter, with each breed having its own unique set of characteristics and qualities. We hand pick all our beef to get the perfect amount of fat covering and marbling throughout.
Although beef only needs to dry-age for 10 days for it to become tender, all our beef is dry-aged on the bone for a minimum of 30  days to allow the flavours to develop. This is essential to ensure all the excess moisture has evaporated and so the enzymes have a chance to break down in the muscles.
For everyone who loves steak as much as we do, or those who are interested in trying something a bit different, we will occasionally dry-age certain cuts for a longer, sometimes up to 70 days! This is for the real steak aficionados who want that extremely beefy and almost game-like flavour.
POULTRY
We always seek out the highest welfare free-range local poultry farms and all of our poultry including ducks, chickens, turkeys and geese are from farms around the North East and Yorkshire.
We also stock free range, woodland reared eggs from Northumberland's Matfen Kearsley Farm, a small family run business who are dedicated to sustainable farming, low food miles and the welfare of the hens throughout their lives.
PORK
All our Pork is rare and heritage breeds. We dry-age the meat on the bone for a minimum of 5 days, giving it time to mature and let the enzymes break down the connective tissue ensuring the pork tastes how it should - succulent and flavourful.
The majority of our pork is Gloucester Old Spot as the consistency of fat coverage and the marbling throughout is just right - both essential for great pork.
We also stock other great breeds including Berkshire, Middle White, Kunekune, Saddleback and the crazy Mangalitza. Originally a Hungarian domestic pig, the Mangalitza is unmistakable in appearance with a thick, hairy sheep like coat and a high fat ratio with darker, boar-like meat which can be served medium.
LAMB
We stock a wide range of breeds including Texel, Blackface, Jacob, and Salt Marsh, and only select the best breeds for the season.
Like our beef each breed of lamb has different qualities, the Jacob is a small and hardy breed; Jacobs can handle the harshness of the winters and provide an exceptionally full flavoured and lean meat. Where as the Blackface sheep are horned, with black and white face and legs and is reared by grazing on rich moorlands throughout the country. Blackface Lambs naturally mature later in the season and therefore retain their flavour and succulence.
CHARCUTERIE
We produce all our own charcuterie. Our salami is fermented and dry-cured to traditional methods, however we use creative flavours to take them to the next level. Each salami is cut, minced and tied by hand, and produced in small batches to ensure ultimate control of our finished product. We dry-cure pancetta and guanciale to our secret recipe, then air dry it in our humidity controlled fridges to bring out the finest flavours.
Two of our products are award winning. Our Soppressata (chilli, fennel and garlic salami), and our Ndjua (spicy spreadable) salami won a bronze and silver medal at the British Charcuterie Awards 2018.
We have recently launched our own charcuterie company called Meat Salt Smoke which we are in the process of setting up in a shipping container in Northern Alchemy's brewery.
Bacon, Sausages, Burgers...
We make our own bacon, sausages and burgers in house. Our chuck burger is made from 30 day aged beef and has to be tried. Our sausages are tasty and our bacon doesn't shrink in the pan... get the hob on!
We are a part of The Butcher's Manifest0 - a collection of meat industry professionals who are committed to driving the industry forward by committing to the five universal key values:
#1 WE HONOUR THE VALUABLE TRADITIONS OF BUTCHERY
#2 WE INSIST ON AN HONEST AND TRANSPARENT APPROACH TO MEAT
#3 WE PROMOTE THE EXCHANGE OF KNOWLEDGE AND EXPERTISE
#4 WE REPRESENT A CRAFT THAT IS THE JOYFUL EXPRESSION OF TRADITIONS AND INNOVATION
#5 WE LEAD THE CONVERSATION ABOUT RESPONSIBLE CONSUMPTION OF MEAT